NZ's Biggest Supplier of leading brands including Australasia's largest martial arts brand, SMAI.
Sole NZ agents: SMAI martial arts, Hayabusa, Rising Sun
Exclusive agents: Title Boxing, Title MMA
Brand agents: Adidas, Venum, TapouT, Twins, MatMan, Everlast, Brute, Ultimate Martial Arts Boards (UMAB)
Nationwide mail order distribution bulk store and retail shop Dunedin.
Martial Arts - Close Combat - Self Defence - Mixed Martial Arts
Read Martial Arts Articles - Free Online!
Feature Article:
Jessica Todd, after 14 years of wrestling, has retired from competition and training in the sport of wrestling that she loved so much.
Latest Issue Out Now! Come in and read Fight Times Martial Arts Magazine - free online!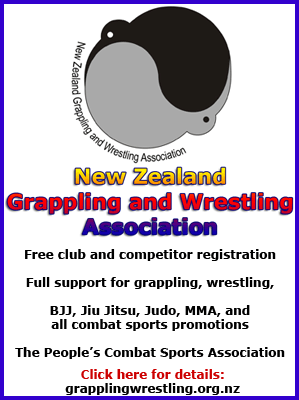 Visit our online Martial Arts Supplies store
Quick Searches: mma supplies, martial arts clothing, karate supplies, boxing supplies, taekwondo supplies, judo supplies, Books, DVDs, Venum, TapouT
Sole New Zealand Suppliers of:
Exclusive suppliers of:
Suppliers of:
Approved Martial Arts Uniforms and Protectors:
Fight Times recommends products from the following partner sites: